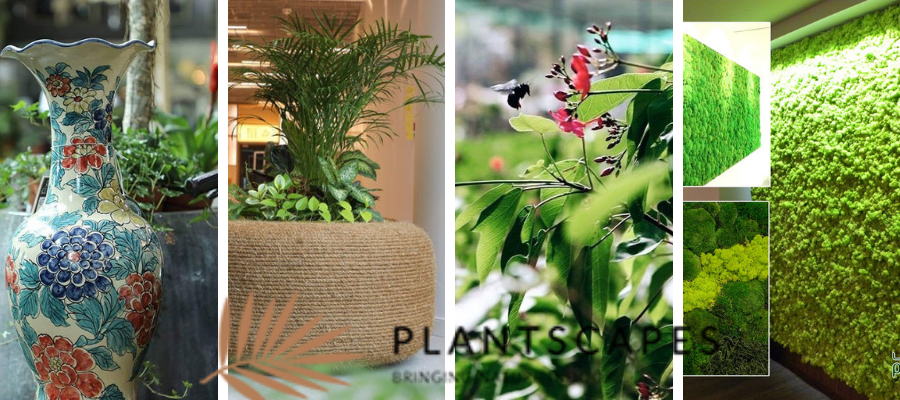 Arid desert environment of the UAE makes green highly desirable and much sought after. We began our journey in interior plantscaping in 2008 after identifying a wide gap in the market between interior designers and indoor plant supply & maintenance services. We aimed to bridge this gulf by providing innovative solutions to bring nature indoors. In the simplest terms, Plantscapes do everything possible to make your indoor space lively and green!
Our Products and Services
Nature makes even the tiniest of spaces beautiful and therefore Plantscapes aspire to liven up all kinds of spaces ranging from apartment and office space to sprawling projects like commercial buildings and event venues. We set up Live Green walls that are unique with exquisite combinations of flowering perennials, foliage plants, bushes, shrubs, and even small trees. If you are looking for something that requires less upkeep, then Plantscapes offers Moss Walls. Moss Walls are made of preserved natural plants that remain forever green without literally any care or maintenance.
Our plants are sourced from the best European growers combined with a wide range of planters from around the world. Custom made pots are another specialty of Plantscapes. Our GRP/GRC pots are made-to-order and can be molded into any design specification. We have pots and planters in different specialized and novelty materials. Plantscapes essentially supplies any and every product related to landscaping including artificial plants, flowers, mulch, pebbles, etc.
Make your special occasion functions more memorable with our plants and flower arrangement. Do you hesitate to spend extravagantly on floral setups that might end up in the dumps in a few days if not in a few hours? This is where Plantscapes can help you! We provide plants and a variety of other products on a rental basis. Be it artificial plants or natural, flowering plants or green walls, Plantscapes has it all available for rent.
Bring Your Space to Life with Plantscapes
Plants and pots not only elevate the aesthetics and set the ambiance but also bring in a sense of tranquility. Indoor plants have been shown to reduce stress, clean up the air and even help with headaches and anxiety. The NASA Clean Air Study found that having a plant every 100 square feet helps increase the oxygen level and remove toxic agents from the air.
The benefits of green space cannot be recounted in a few words. Get in touch with Plantscapes today to get expert advice on how to make your space full of life, nature, and happiness.