Do you want to make your hotels or restaurant a more pleasant place for your customers? What about creating an environment that promotes their health and well-being while also raising the perceived worth of your business? UAE's best indoor landscaping company, Plantscapes – A Desert Group Company can help design and maintain your indoor landscapes at your hotels and restaurants.
We'll look at some of the advantages of indoor landscaping as well as some of the possible drawbacks.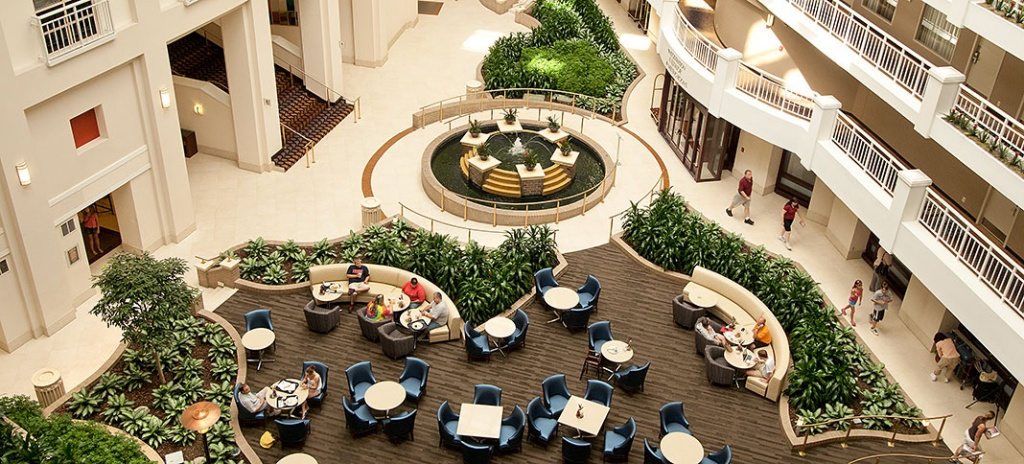 Biophilic Design in a Nutshell
Biophilic design is the process of linking humans and nature inside our structures, surroundings, and communities. People in the UAE spend most of their time indoors and to improve health and productivity, the biophilic design incorporates direct experiences of nature (light, air, water, plants, etc.) into our manmade environment. Plantscapes are the leaders in designing indoor spaces for restaurants and hotels in UAE.
Fundamentally, a biophilic design strives to transform indoor spaces into medicine for humans who spend an increasing amount of time indoors which promotes our physical and mental well-being.
The Advantages of Plantscaping Within Hotels & Restaurants
Plants have continued to play a growing role in hotels and restaurants. Here are some extra advantages of incorporating plants into your hotel's or restaurant's original interior design if you are just getting started, or into your current layout.
Plants provide color to every area and have a universal aesthetic appeal to your hotels.
Restaurants with well-cared-for and creatively presented plants have a higher perceived value by customers than restaurants without them.
Plants can also be used as a utilitarian investment. Instead of a completely made building use green walls as dividers for rooms. At Plantscapes we can custom design green walls for your hotels or restaurant requirements.
By adding green walls or moss walls to your indoor landscape, you can conceal flaws and fill awkward areas, making the place more welcoming to guests.
Depending on the density of your indoor landscapes, plants filter the air and minimize dust levels.
Plants absorb noise pollution and assist to calm a room.
The influence of lush flora on mood and well-being produces a pleasant emotional link with the restaurant, resulting in more repeat customers and a stronger bottom line.
Challenges of Plant Maintenance Within Commercial Structures
The advantages of incorporating plants into interior areas are obvious. Plants, on the other hand, need care and maintenance. They are sensitive to environmental changes and are unable to thrive in crippling circumstances. Plantscapes provide monthly and yearly plant maintenance contracts so that you remain stress-free, and your hotels and restaurants keep looking lush green.
To prevent exposing your customers to dead plants, which would have the opposite impact intended plan of time by keeping a few typical difficulties in mind.
The first problem to anticipate is that plants require water. The most reliable method is to allocate a dedicated staff person to quench their thirst. Your plants will not live long if they are ignored or if too many people decide to water them.
Next, consider the outside temperature. Can your plants, for example, withstand air conditioning? Are they, on the other hand, too near to the heat flowing from the kitchen?
Finally, their positioning should be carefully studied. Keep them away from high-traffic locations where both servers and customers are likely to collide and cause harm. Plants, of course, require sunshine. Make certain that they are placed in places that will fulfill their specific demands. Many restaurant-friendly plants, for example, thrive in indirect sunlight, while others prefer full sunshine.
Plantscape is an all-in-one solution for indoor landscaping and plant maintenance. We can help you to design your indoor landscapes and suggest plants for your interiors, keeping in mind the light requirements, watering and maintenance for the plant. With our yearly maintenance contracts, you would not have to worry about your indoors looking green. We provide the necessary care required for each plant. Get in touch with us to know how we could help you with the design and maintenance of your indoor landscapes.