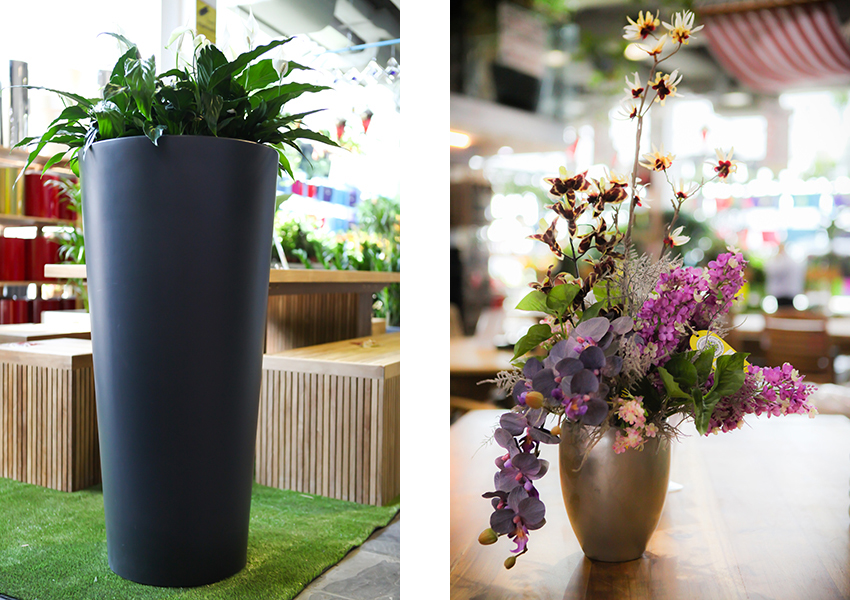 Pairing houseplants with the right pots can not only transform interior spaces but also add texture, colour and accent to the décor. While choosing a pot, its shape, size and material must be considered. The colour and finish of a pot must also complement interiors and enhance the ambiance of a space.
Above all, pots are more than just objects of décor, you need to choose a piece you love, one that resonates with you. With a variety of options to choose from, one can opt for concrete pots which are resilient and lighter than traditional pots, plastic pots made of fibre-glass which known to be strong, watertight and light weight and also pots made from numerous metals (including aluminum, stainless and galvanized steel) that is also considered the finest and fit everyone's needs.
Plantscapes tapped this growing trend early on and caters to its customers' requirements for elegant, stylish and aesthetically appealing pots.
Glass Reinforced Plastic (GRP) Pots
Glass Reinforced Plastic is strong, lightweight and watertight, rendering the material ideal for use both indoors and out. GRP pots are reasonable and very durable as they are nonporous and can easily retain water. These pots can be used year round and can retain water well for those water loving plants. Plantscapes offer a variety of elegant, sophisticated and statement containers in this durable material.
Glass-Fibre Reinforced Concrete (GRC) Pots
Glass-Fibre Reinforced Concrete is durable, water-tight and can be beautifully textured to complement décor. GRC Pots can closely resemble Ceramic pots, thereby providing a more durable and fairly inexpensive alternative to the same.  Plantscapes provides a variety of GRC Pots to choose from and can customise the same to meet the aesthetic requirements of our clients.
Ceramic Pots
Ceramic or clay pots are essentially made of plain terra cotta which can be colourfully glazed to match interiors. These are some of the most widely recognized pots used as garden containers because they emerge from age-old practices. Customers are familiar with the material. Ceramic Pots, however, are an expensive and fragile alternative which may pose certain restrictions in terms of use and durability.
Metal Pots
Metal containers are gaining popularity as they excel in a variety of applications. Metal can be galvanised, painted and can easily be embossed with designs to create pots which are unique and aesthetically appealing. Metal however, is a relatively expensive alternative to the other materials but is also one of the most durable options.
Whether you require pots for your offices or homes, we can assist you in creating a beautiful masterpiece to call your own. Our experience and expertise in the interior plantscaping industry means we can make things a little easier for our clients providing creative plant solutions for any occasion.